Dear Saints,
We are deep into Summer and I pray that you are all finding joy, play, laughter as well as and calm, rest, peace. Summer is a wonderful time of year for so many things including seeing all sorts of things grow, blossom and produce delicious things to eat. It's also a time when the church slows down in activity including regular events, meetings, and the like.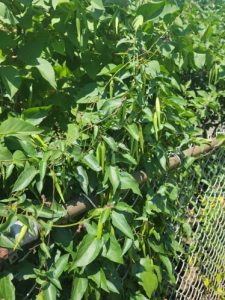 This year is a little different given the last two years, and the officers are still at work meeting, discerning, and dreaming up all the things we want to accomplish and/or resurrect in the coming year to strengthen our mission and ministries. That takes a lot of effort, a lot of hands, a lot of creativity, and of course, a lot of prayer.
For sure, there will be a renewed focus on Christianity in all its forms, but that can't happen without all of us pitching in to accomplish that. I am planting these seeds so that come late August and early September, you will be ready to respond when the call comes.
But we don't ever do ministry alone. God always goes before us, but we may not be thinking about that while we're away from church and on vacation. But God is continuing to be present and nurturing all of creation, including here at our church.
This is about the 4th year we've had beans growing since I left that pot of beans outside after Ash Wednesday. Now the beans are growing on either side of the H/C entrance! God's growth continues even if we don't notice it. However, like the beans, if we don't continue to care for the church and all of its missions and ministries it can't continue to produce new food.
Please enjoy the rest of your Summer. Please come to worship whenever you're home.
Please return to church in the fall ready to help plant and nurture new seeds for all to see.
Ready to start planning and planting with you,
Jen